Free Worldwide Shipping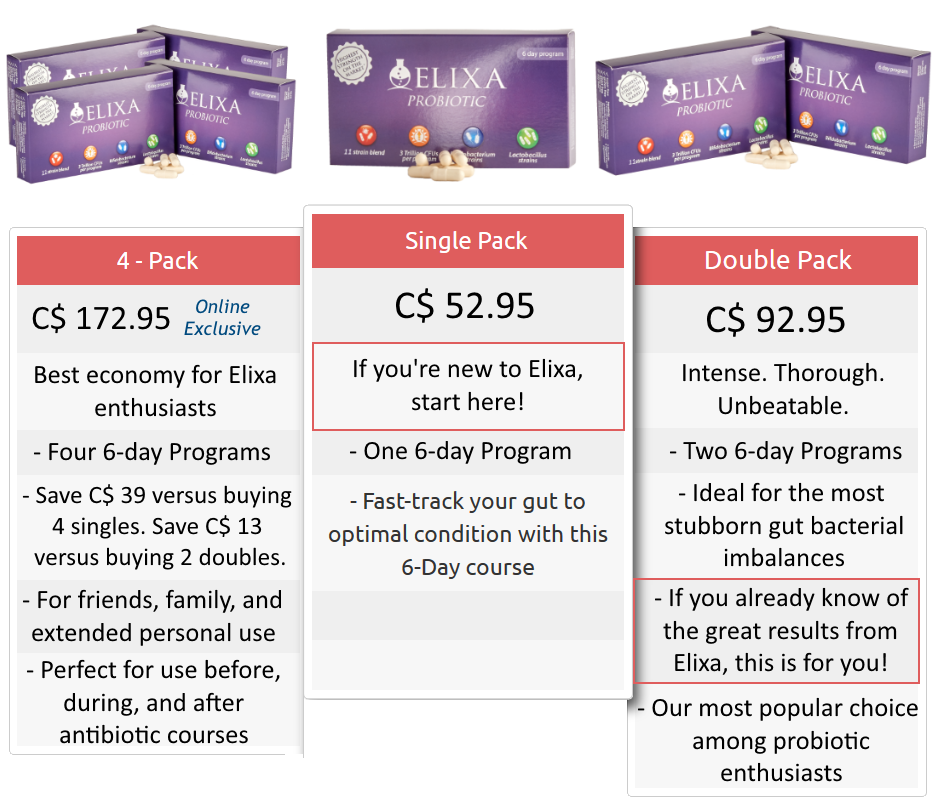 Elixa is a 6 day program of high strength probiotics to help you achieve optimal gut health. Inside each box are 6 sachets, each containing one daily dose of 500 Billion CFUs. This daily dose consists of 10 easy-to-swallow capsules. All you need to do is take one daily dose in the morning, on an empty stomach, for 6 consecutive days! Be sure to wash them down with plenty of water or juice.
For people who are serious about achieving the highest levels of gut health as rapidly as possible, we recommend the double pack – taken over 12 consecutive days. After your course is complete you can sit back and enjoy the benefits of a healthy gut. No need to be taking supplements every day for months on end!
We recommend repeating the program whenever you feel like your healthy bacteria may be in need of a top-up! For example – during and after antibiotic usage, during and after a stomach bug, and after any excessive consumption of alcohol or junk food. We always recommend first-time users of Elixa to take their 6-day program over 6 consecutive days, without breaks in the program. If you wish to take probiotics on a regular basis then there is no harm in taking Elixa as frequently as you desire. Once every month or two is a good aim, for those who wish to continue taking probiotics regularly. Some customers choose to take multiple programs in the first month if they feel they need to correct a more serious gut bacteria imbalance to begin with. And remember – The health of your gut can affect the health of your entire body!
Elixa capsules only have three ingredients!
11-strain Proprietary Probiotic Blend (Lactobacillus Plantarum, Lactobacillus Rhamnosus, Lactobacillus Reuteri, Lactobacillus Acidophilus, Lactobacillus Casei, Lactobacillus Helveticus, Lactobacillus Salivarius, Bifidobacterium Bifidum, Bifidobacterium Lactis,

Bifidobacterium Longum,

Bifidobacterium Breve)

500 Billion CFUs per daily dose

Potato Starch (For the benefits of Resistant Starch for probiotic adhesion)
Magnesium Stearate (Used to aid flow of powder within blending and capsules filling machinery. Less than 1% of the final blend)
The potato starch is present to provide the benefits of resistant starch with regards to probiotic adhesion and to keep the capsule contents completely dry from atmospheric moisture, ensuring that the bacteria remain in their stable, freeze-dried state until consumption. The magnesium stearate is present in a minuscule amount - less than 1%, i.e. a tiny speck of powder in the final blend - to aid the movement of the probiotic powder through the stainless steel blending and capsule filling equipment. The capsules are vegetable-capsules made from hypromellose.
Elixa is:
Sugar Free
Gluten Free
Dairy Free
Artificial Colour and Preservative Free
Vegan-friendly
We ship worldwide.... for free!
Shipping Times
U.K. - 1-2 Business days
USA - 2-5 Business days (Tracking included for all orders!)
Europe (except Italy) - 3-5 Business days
Australia & Italy - 5 - 18 business days
The rest of the world - 5-10 business days
Please note that these times are only approximate and vary based on the efficiency of your country's customs and postal service once it reaches your mainland. All post outside the UK is sent by air to reach you as soon as possible. Elixa is completely stable at room temperature for many months, therefore, there will be no loss of quality for any location or transit time.
Exclusions
Unfortunately - due to customs clearance delays - we do NOT ship to the following countries:
United Arab Emirates, Mexico, Chile, Brazil, South Africa, Uruguay.
This list is subject to change as our distribution network expands. If you accidentally make a purchase from these countries; don't worry! We will refund the entire amount immediately.